News Search
Find newsworthy headlines from Rohde & Schwarz, including technical articles, press releases, NEWS magazine articles, and more.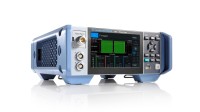 18-Mar-2019 | Press Release | Test & measurement
With the new R&S NRX RF power meter, even complex test setups can be configured quickly
Rohde & Schwarz has equipped the new RF power meter with a touchscreen based operating concept that guides the user through configuration. The R&S NRX has up to four measurement channels, for which Rohde & Schwarz offers a wide range of power sensors. For the first time, both terminating and directional power sensors are supported in a single instrument.