EMI Debugging
Rohde & Schwarz has an extensive experience in EMI testing and provides a broad range of solutions in EMI Debug, EMI PreCompliance and EMI Compliance testing.
Use our EMI Debug solutions to verify your design at an early stage and to localize possible sources of emissions. Quickly find the root cause of EMI problems with our multidomain functionality, correlating time and frequency domain in your signals.
T&M Solutions
Optimizing wide-bandgap semiconductor switches to meet EMI compliance
EMI compliance is becoming a major concern for advanced power electronics due to increasing switching speeds. Correlated time-frequency measurements help optimize gate driving and minimize electromagnetic emission already during development.
---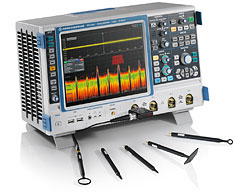 Analyze EMI problems with the R&S®RTO
When debugging electromagnetic interference (EMI) problems, the electronic design engineer faces the challenging problem of identifying the sources of unwanted emissions. Learn more about
Easy set up and easy analysis
Detecting small signals due to a high dynamic range
Capturing sporadic events (High wfm/sec; Mask Trigger)
---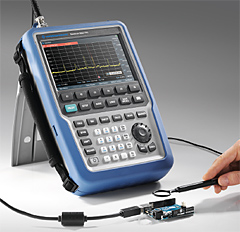 EMI debugging at board level
EMI radiation and crosstalk caused by poor shielding can lead to signal quality and performance degradation in electronic devices. See how to
Choose the right NFP and Settings
H-Field, E-Field Measurements
Premium download
Design for Emi Test
EMI Step by Step Guide
Get your free step-by-step guide and solve your problems while discovering and analyzing EMI in a systematic and methodical approach
Related Products
More About Analog / Digital Design and Test
Want to learn more?
Thank you.
Your request was successfully sent!
We will get in touch with you soon.
Your Rohde & Schwarz Team
Thank you.
Your request was successfully sent!
We will get in touch with you soon.
Your Rohde & Schwarz Team