One vision – and now one company
Broadcast and media from Rohde & Schwarz
With 30 years of experience, the subsidiary Rohde & Schwarz DVS GmbH – formerly DVS Digital Video Systems - has been very successful in the digital film, video production, post production and broadcast markets. The highly developed, specially manufactured hardware and software solutions were and still are used to produce popular TV series and Hollywood blockbusters and enable 4K films for digital cinema. The product portfolio consists of unique, award-winning systems for customized, flexible, high-performance workflows and continues to evolve.
The subsidiary has now fully joined the Rohde & Schwarz broadcast and media unit. We share one vision – and are now one company: Rohde & Schwarz. Our customers will benefit in many ways, including from the extensive Rohde & Schwarz global sales and service organization.
Products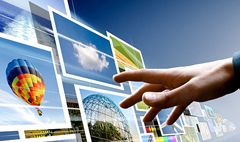 For your convenience, you will find all our products on the Rohde & Schwarz website here:
Media Systems and Solutions webpage
Learn more about our broadcast studio product line, like the R&S®VENICE ingest, playout and production video server, for e.g. transcoding. If you are interested in our post production systems, such as the R&S®CLIPSTER mastering station, you will find it on the Rohde & Schwarz website, too. The site also contains product news about storage solutions such as R&S®SpycerBox or video boards. Are you interested in our viewpoint on IMF or DCI mastering, our 4K approach, how we handle ingest, production and playout or other broadcast and media solutions? Then feel free to browse our product portfolio.
Service & Support
Our Service & Support team will handle your requests as usual. All of your service agreements will remain unaffected by the organizational changes.
If you experience any difficulties, simply write an e-mail to service.dvs@rohde-schwarz.com or call us at +49-511-67807125.
From now on, you will find the latest software releases, manuals and firmwares in our Global Rohde & Schwarz Information System GLORIS portal.
How to register to GLORIS
Unfortunately, some of the old accounts could not be transferred to GLORIS. If you have not received an email about the transfer, please register here for GLORIS access:
A short video on this page provides you with all the essential information on how to register. Please enter service.dvs@rohde-schwarz.comas your Rohde & Schwarz contact email. This will help us to process your registration even faster.
---
Service Contact
+49 511 67807125