Power Electronics
Let our test und measurement solutions assist you to create low power consuming and reliable products
Power Electronics is one of the basic parts of every electronic device. A proper design is key to guarantee the performance of components, boards and systems. Besides this, aspects like energy efficiency and extended battery lifetime are continuously gaining significance.
In this section, you will find our test solutions for
Embedded Power Electronics & ICs
Electric Installations & Lighting
Electric Drives
T&M Solutions for
Optimizing wide-bandgap semiconductor switches to meet EMI compliance
EMI compliance is becoming a major concern for advanced power electronics due to increasing switching speeds. Correlated time-frequency measurements help optimize gate driving and minimize electromagnetic emission already during development.
---
USB Power Delivery Compliance Testing
The USB Implementers Forum (USB-IF) enhanced USB 2.0 and USB 3.1 with the USB power delivery specification. This specification enables flexible power delivery up to 100 W (up to 20 V and 5 A). Learn more about
USB-PD compliance testing
---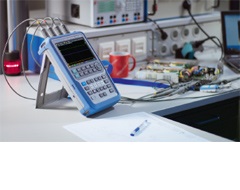 Safe debugging of embedded power supplies
Embedded power supplies combine traditional power supply components with multiple sensors, processing and control logic as well as digital communications interfaces as well as digital communication interfaces. Learn more about
Benefits of capturing long sequences
Doing floating (isolated) measurements (analog / digital)
Trigger & decode capabilities for time-correlated analysis
---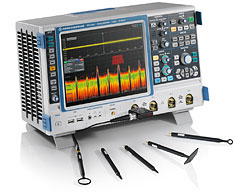 Analyze EMI problems with the R&S®RTO / R&S®RTE
When debugging electromagnetic interference (EMI) problems, the electronic design engineer faces the challenging problem of identifying the sources of unwanted emissions. Learn more about
Easy set up and easy analysis
Detecting small signals due to a high dynamic range
Capturing sporadic events (High wfm/sec; mask trigger)
---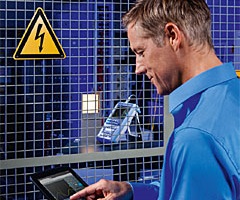 Wireless control of the R&S®Scope Rider for increased operator safety
Measurement approach for applications that require higher safty. For example, analyzing modern electric drive systems with measuring motor voltages and high currents and evaluating the associated digital control signals. Find information about
Remote measurement control
Floating (isolated) measurements
---
Quick and efficient troubleshooting with the R&S®Scope Rider
A typical use case when debugging electronic systems is capturing and analyzing rare signal faults and anomalies. Such events, for example rare glitches in a power supply, can cause complex system failures. Learn more about
How to find rare faults by utilize the right trigger
Logging measurements over long period of time
Mask testing
---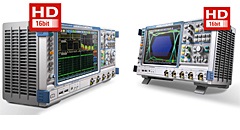 Measuring RDS(on) with high-definition oscilloscopes
RDS(on) of MOSFETs is a key parameter for determining the conduction loss in switched-mode power supply applications. Learn more about
Choosing the right probe and probing technique
Reducing inherent scope noise to the minimum
Utilizing high vertical resolution to get a high dynamic range
Related Products
More About Power Electronics
Want to learn more?
Thank you.
Your request was successfully sent!
We will get in touch with you soon.
Your Rohde & Schwarz Team
Thank you.
Your request was successfully sent!
We will get in touch with you soon.
Your Rohde & Schwarz Team