News Search
Find newsworthy headlines from Rohde & Schwarz, including technical articles, press releases, NEWS magazine articles, and more.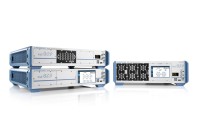 14-Nov-2018 | Press Release | Test & measurement
Rohde & Schwarz presents new modular RF switch and control platform for a wide range of test scenarios
Rohde & Schwarz has completely revised the hardware and software for the new generation of the R&S OSP open switch and control platform. It is now optimized for more modules and even shorter switching times. The R&S OSP allows users to combine a wide variety of switch and control modules to form a cost-effective, customized control center for their test setup. The new R&S OSP platform supports the previous platform's modules.