Munich 19-Apr-2018
ILA Berlin 2018: Rohde & Schwarz presents next generation software defined airborne radios
Rohde & Schwarz is expanding its successful R&S M3AR family of airborne radios with another high-end radio. The R&S SDAR software defined airborne radio offers secure, high data rate communications, flexible deployment and true independence for the customer. In addition, Rohde & Schwarz is the only provider to offer a radio that can be certified for civil and military use.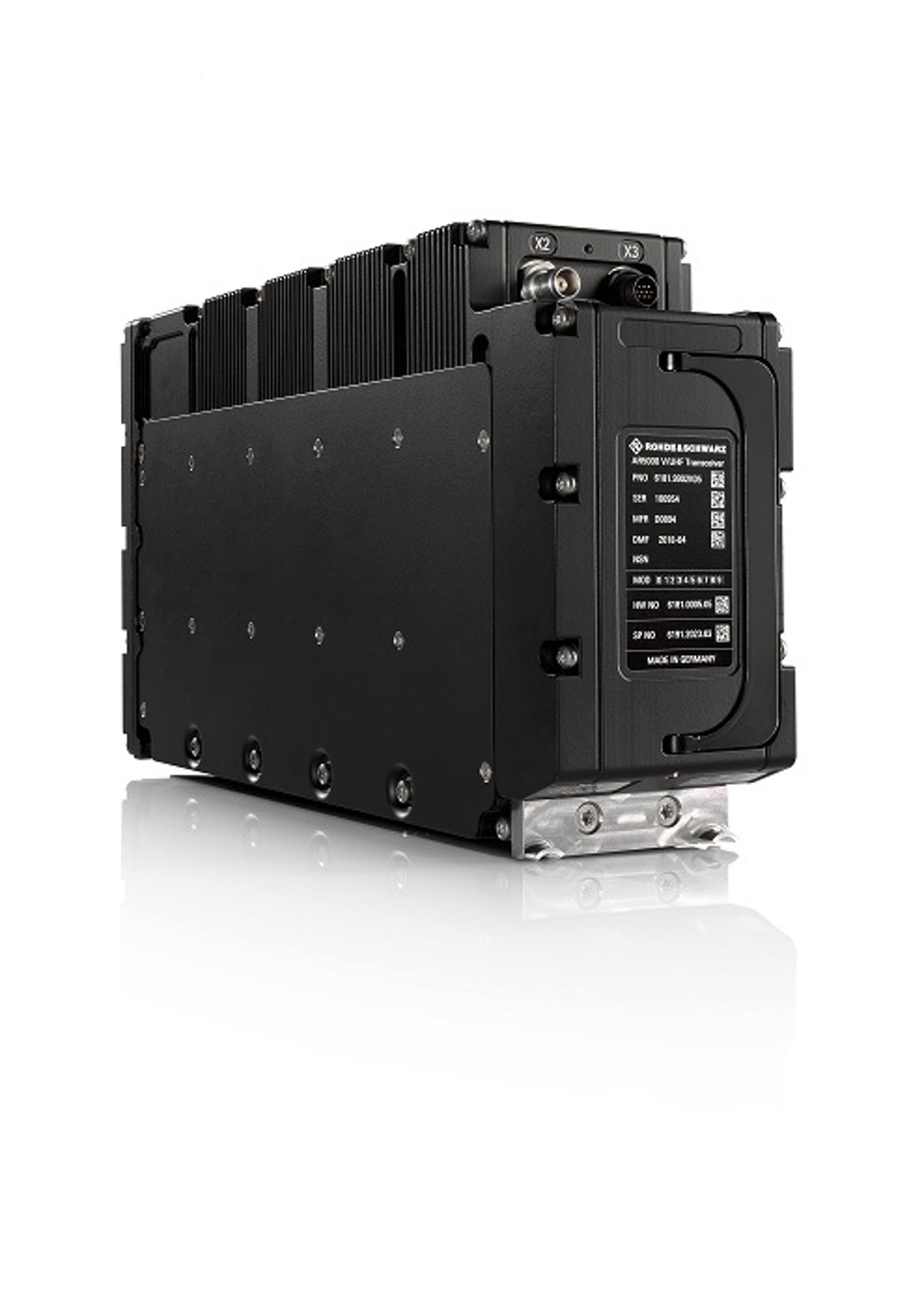 The R&S SDAR software defined airborne radio offers secure, high data rate communications.
The R&S SDAR from Rohde & Schwarz takes the latest generation software defined radios (SDR) and network enabled waveforms to the skies. It combines the advantages of a high data rate, IP-based radio with the excellent technical performance customers have come to expect from the successful R&S M3AR family of airborne radios. More than 7000 R&S M3AR radios from the independent European vendor are in use worldwide on over 70 different airborne platforms. The first customer contracts for the new R&S SDAR are currently being implemented. That was made possible by working closely with government customers and platform manufacturers during development to harmonize requirements.
Bosco Novak, Executive Vice President, Secure Communications Division, comments: "We are proud to launch the most advanced airborne radio for secure military communications. With its outstanding technological features, the R&S SDAR offers many advantages for integrators and users. For Rohde & Schwarz, enabling our government customers to maintain sovereignty in the digital information space is at the core of the concept."
Stefan Pleyer, Vice President, Market Segment Avionics, adds: "At the technological level, the R&S SDAR stands for information superiority in network centric operations and utmost flexibility in deployment. A unique feature is the fact that Rohde & Schwarz airborne radios can be certified for civil use."
Rohde & Schwarz is the only vendor to meet the civil certification regulations of the European Aviation Safety Agency (EASA). Military aircraft can only be certified and deployed without restrictions, if they meet both military and civil standards. Two radios must usually be carried on board an aircraft to ensure failsafe performance. The R&S SDAR airborne radio can be used in both applications, delivering unprecedented efficiency in terms of logistics, integration, maintenance and training. It also simplifies integration and saves space and weight in the aircraft.
As a state-of-the-art software defined radio, the R&S SDAR supports the porting of waveforms independent of the manufacturer to give customers additional flexibility. The R&S SDAR has been designed as an open platform based on the international Software Communications Architecture (SCA) standard, with a strict separation between the radio's hardware and software, the waveforms. That makes it possible to port SCA-based waveforms, including those from other manufacturers, as well as legacy waveforms to the radio, providing safety of investment along with backward compatibility with legacy radio systems. It also enables customers to create and modify embedded encryption along with the waveforms. That allows secure communications channels to be set up to provide interoperability between different branches of a country's armed forces and between different nations. National data is protected, and information superiority in joint operations and combined missions can be achieved.
Rohde & Schwarz has created a family of network enabled, high data rate waveforms to handle diverse mission requirements. The waveforms of the R&S HDR family can transmit data and up to two voice channels in parallel, at high speed and with different priorities. Users can select the waveform that best suits a given communications scenario in terms of range, data rate and jamming resistance. In addition, the R&S HDR waveforms integrate highly secure encryption algorithms to protect military communications.
The R&S SDTR vehicular tactical radio and the R&S SDHR handheld tactical radio already incorporate latest generation software defined radio technology and R&S HDR waveforms. The R&S SDAR adds airborne communications capability to ground-based radio networks.
Rohde & Schwarz will showcase the R&S SDAR software defined airborne radio at ILA Berlin from April 25 to 29, 2018.
For more information, visit www.rohde-schwarz.com/ad/press/sdar.
Name
Type
Version
Date
Size
High Resolution Press Pictures
Rohde & Schwarz
The Rohde & Schwarz technology group develops, produces and markets innovative communications, information and security products for professional users. The group's test and measurement, broadcast and media, aerospace | defense | security, networks and cybersecurity business fields address many different industry and government-sector market segments. On June 30, 2018, Rohde & Schwarz had approximately 11,500 employees. The independent group achieved a net revenue of approximately EUR 2 billion in the 2017/2018 fiscal year (July to June). The company has its headquarters in Munich, Germany. Internationally, it has subsidiaries in more than 70 countries, with regional hubs in Asia and America.
R&S® is a registered trademark of Rohde & Schwarz GmbH & Co.KG.
Request information
Do you have questions or need additional information? Simply fill out this form and we will get right back to you.