Munich 12-Apr-2018
NAB 2018: Rohde & Schwarz expands its media server platform for studio production and playout applications
Rohde & Schwarz has significantly expanded and optimized its R&S VENICE platform for live production, studio production and channel playout applications. R&S VENICE offers absolute stability and an enormous range of features. Its flexibility makes it a future-proof investment. Thanks to the use of open standards, the media server is interoperable with systems from other manufacturers and can easily be integrated into existing infrastructures. R&S VENICE uses proprietary virtual storage access (VSA) technology to ensure reliable transmission even in critical applications. The latest evolution of the platform supports the SMPTE 2110 video over IP standard, NMOS and SDI.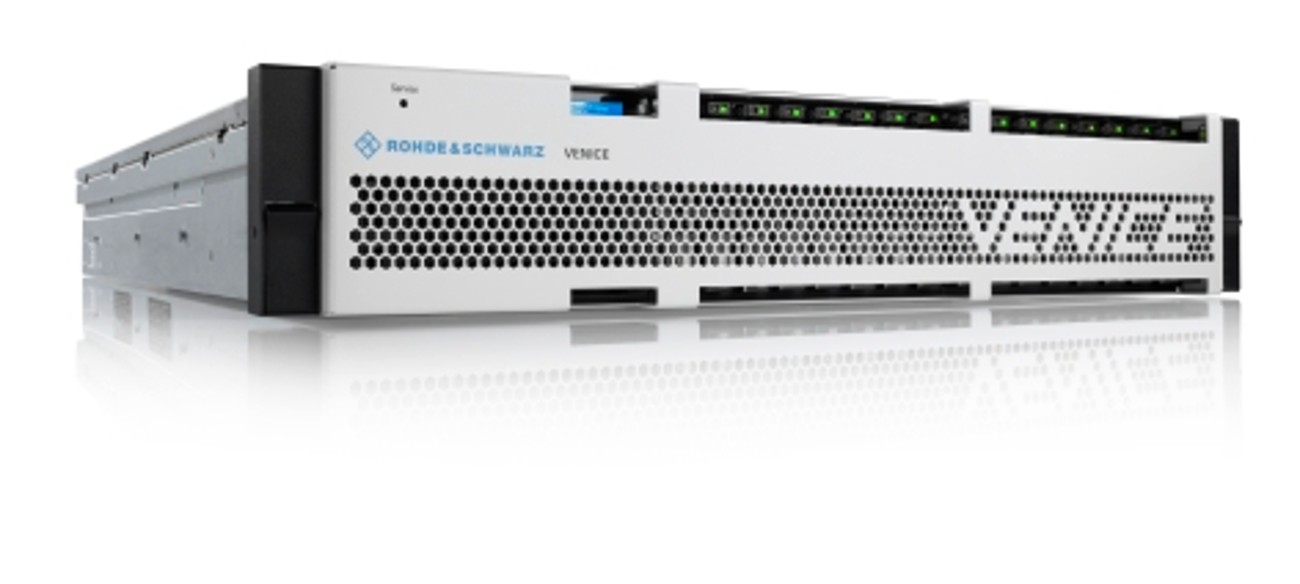 R&S VENICE offers absolute stability and an enormous range of features.
Broadcasters and production companies face many challenges when updating their infrastructure. The R&S VENICE platform facilitates the smoothest possible transition from SDI to IP technology. Its applications range from a standalone server to multichannel installations. It is ideal for the studio, live productions, and multichannel playout applications. The new R&S VENICE uses a standard IT server and features an ultra-robust, next generation modular software design based on a new software structure. The new proprietary VSA technology enables failsafe ingest and playout operation.
VSA acts as a partition between software and hardware functions and virtualizes two physical storage units as a single virtual storage unit. All crucial components are redundant to ensure uninterrupted operation.
To achieve the greatest possible interoperability in existing installations, R&S VENICE uses web service technologies and standard communications protocols such as VDCP, MOS and FIMS. R&S VENICE supports workflows based on SDI or SMPTE 2110 by simply exchanging the SFP+ module on the video I/O board. This modular concept allows customers to flexibly transition from SDI to IP, making R&S VENICE a future-proof investment.
The new R&S VENICE platform will be on display at NAB as part of the IP Showcase (Central Hall C12634). The media server is the HD and UHD signal source for the subsequent workflow. Test devices receive these signals and forward them to UHD providers.
The new R&S VENICE is available now from Rohde & Schwarz.
Name
Type
Version
Date
Size
High resolution press picture
Rohde & Schwarz
The Rohde & Schwarz technology group develops, produces and markets innovative communications, information and security products for professional users. The group's test and measurement, broadcast and media, aerospace | defense | security, networks and cybersecurity business fields address many different industry and government-sector market segments. On June 30, 2018, Rohde & Schwarz had approximately 11,500 employees. The independent group achieved a net revenue of approximately EUR 2 billion in the 2017/2018 fiscal year (July to June). The company has its headquarters in Munich, Germany. Internationally, it has subsidiaries in more than 70 countries, with regional hubs in Asia and America.
R&S® is a registered trademark of Rohde & Schwarz GmbH & Co.KG.
Request information
Do you have questions or need additional information? Simply fill out this form and we will get right back to you.