Search for Products
Find products for aerospace, defense, security, broadcast & media, networks & cybersecurity, and test & measurement.

R&S®HF907DC Antenna
A version without integrated antenna is also available.Key factsThe R&S®HF907DC SHF Directional Antenna with Down Converter combines two key features into a single product:It extends the frequency range of portable receivers (e.g. R&S®PR100) up to 18 GHzIt allows localization of transmitters or interfering sources by utilizing the distinct directional pattern of a log.- periodic antenna.
Monitoring antennas
Monitoring antennas for mobile and stationary use, providing complete coverage of the frequency range from 900 Hz to 40 GHz.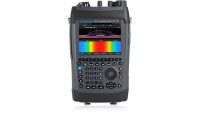 R&S®PR200
R&S®PR200 portable monitoring receiver - High-performance spectrum monitoring in a handheld format. It reliably detects, analyzes and locate signals from 8 kHz to 8 GHz.