News Search
Find newsworthy headlines from Rohde & Schwarz, including technical articles, press releases, NEWS magazine articles, and more.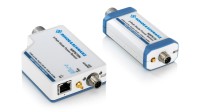 21-Jan-2021 | Press Release | Test & measurement
High speed, high accuracy RF power measurements up to an unrivalled 67 GHz with the R&S NRP67S/SN power sensors
Rohde & Schwarz has increased the maximum measurable frequency of its three-path diode power sensors to an unrivalled 67 GHz. The three-path technology enables extremely fast and accurate power measurements with a high-sensitivity, portable instrument of minimum size and weight. This frequency extension makes high speed power measurements possible for additional applications such as IEEE 802.11ay and 802.11ad WiGig Wireless LAN, millimeter-wave terrestrial short distance communication links, and satellite-satellite links operating at 60 GHz.