News Search
Find newsworthy headlines from Rohde & Schwarz, including technical articles, press releases, NEWS magazine articles, and more.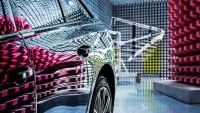 27-Feb-2020 | Press Release | Test & measurement
Testing automotive electronics: Rohde & Schwarz exhibits fast, robust and compact test solutions at EMV 2020
Today's vehicles contain more and more electronics with RF technology, radio components, radars and high speed data buses. This makes it difficult for automobile manufacturers to ensure that electronic emissions remain within specified limits and that vehicles are not susceptible to external interference sources. That's why, at EMV 2020 in Cologne (Germany), Rohde & Schwarz will present EMC test solutions specifically for users in the automotive industry: the fastest CISPR-25 certification, a robust and compact BCI test system, and R&S AdVISE version 5, which keeps a close eye even on vibrating display elements during EMS tests.