Amplifiers
Power amplifiers are a crucial part of any RF design. These essential components get the RF signal to the right power level for transmission and strength the receiver needs for recognizing and decoding the signal. Various applications from low noise amplifiers often used at receiver frontends to high power amplifiers used at larger broadcast systems face challenges such as signal distortion, power consumption, and a variety of measurements and reruns.
Rohde & Schwarz solutions support you to verify your design with unmatched RF measurement performance, dynamic low level power consumption analysis, and high test speed.
---
---
T&M Solutions
Optimize Doherty power amplifiers
Speed up development, verify best performance and start up series production with confidence. Doherty designs achieve high efficiency, greater linearity and increased output power.
---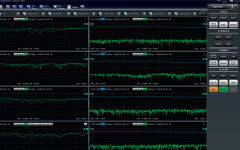 Verify beamformer ICs for phased array antennas
Integrated beamformer ICs shrink the size of antenna feed electronics. Multiport network analyzers shrink the necessary test setup down to one instrument.
---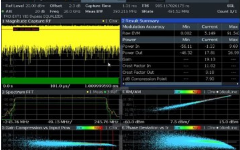 Testing a 24-28GHz Power Amplifier using the 5G New Radio Test Standard, Challenges and Results
An ever-increasing requirement for data on mobile networks, driven by a myriad of applications from HD video on the move to autonomous vehicles and Industrial IOT, means a part of the new 5G network is to be deployed at mmWave frequencies, with a 26 GHz pioneer band defined for the UK between 24.25 - 27.5 GHz.
---
Speed up amplifier measurements
The R&S®FPS-K18 amplifier measurement option in combination with the R&S®FPS signal and spectrum analyzer and the R&S®SGT100A SGMA vector RF source enables high-speed amplifier characterization.
---
Intermodulation measurements on RF amplifiers
The R&S®ZNB vector network analyzer is easy to configure and calibrate using the built-in intermodulation wizard.
---
Simplify your envelope tracking system
The R&S®SMW200A vector signal generator combined with the R&S®FSW signal and spectrum analyzer offers fast and simple power amplifier testing including envelope tracking and digital predistortion, effectively replacing complex test setups.
---
RF/microwave DUT deembedding
Its excellent realtime baseband performance in combination with its ability to easily import the scattering parameters of an active/passive twoport interconnection network via s2p-files make the R&S®SMW200A vector signal generator ideal for high-precision RF and microwave tests requiring deembedding of the device under test (DUT).
---
Dynamic noise figure measurements
The R&S®FSWP phase noise analyzer is a highend instrument designed to accurately analyze noise performance of key components in radar and communications systems. Using phase noise measurements, a device's large-signal noise figure can be derived under real-world operating conditions.
---
Analyzing RF radar pulses with an oscilloscope
Analyzing RF pulses is a key aspect of pulsed radar applications, e.g. in air traffic control (ATC), maritime radar or scientific measurements of the ionosphere. It is essential to analyze the pulse envelope in the time domain because it contains important information needed to characterize the application. The R&S®RTO digital oscilloscope is a very useful measurement instrument for analyzing pulse characteristics.
Related Product Groups
Thank you.
Your request was successfully sent!
We will get in touch with you soon.
Your Rohde & Schwarz Team