News Search
Find newsworthy headlines from Rohde & Schwarz, including technical articles, press releases, NEWS magazine articles, and more.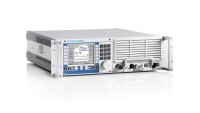 27-Jun-2019 | Press Release | Aerospace
Safety in Greenland waters: Tele Post opts for Rohde & Schwarz communications system
Rohde & Schwarz has been awarded a contract to supply eighteen (18) 1 kw HF transceivers to Tele Post for the Greenlandic coastal radio system. Tele Post maintains distress and safety control for shipping in Greenland waters. The telecommunications company handles maritime safety and emergency communications.