EMI 디버깅
로데슈바르즈는 EMI 테스트에서 폭넓은 경험을 보유하고 있으며, EMI 디버그, EMI 사전 적합성 및 EMI 컴플라이언스 테스트에서 광범위한 솔루션을 제공합니다.
로데슈바르즈의 EMI 디버그 솔루션을 사용하여 초기 단계에서 설계를 검증하고 가능한 방출 소스를 찾아 보십시오. 로데슈바르즈의 멀티 도메인 기능으로 EMI 문제의 근본 원인을 찾고 신호에서 시간과 주파수 도메인의 상관관계를 분석해 보십시오.
T&M 솔루션
Optimizing wide-bandgap semiconductor switches to meet EMI compliance
EMI compliance is becoming a major concern for advanced power electronics due to increasing switching speeds. Correlated time-frequency measurements help optimize gate driving and minimize electromagnetic emission already during development.
---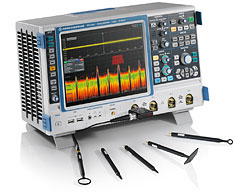 R&S®RTO를 사용하여 EMI 문제 분석
EMI(Electromagnetic Interference, 전자기 간섭) 문제를 디버깅할 경우 전자 설계 엔지니어는 불필요한 방출의 소스를 찾아야 하는 과제에 부딪힙니다. 다음 내용에 대해 자세히 알아보십시오.
간편한 설정 및 분석
높은 다이내믹 레인지로 인한 작은 신호 감지
산발적 이벤트 캡처(높은 wfm/sec, 마스크 트리거)
---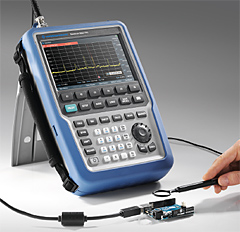 보드 수준에서의 EMI 디버깅
잘못된 차폐로 인해 발생한 EMI 방사선과 크로스토크는 전자 기기에서 신호 품질과 성능 저하의 원인이 될 수 있습니다. 다음 방법에 대해 알아보십시오.
올바른 Near Field 프로브 및 설정 선택
H-필드, E-필드 계측
신호 무결성에 대한 T&M 솔루션
Design for Emi Test
EMI Step by Step Guide
Get your free step-by-step guide and solve your problems while discovering and analyzing EMI in a systematic and methodical approach
관련 제품
아날로그/디지털 설계 및 테스트 자세히 알아보기
감사합니다.
요청이 성공적으로 전송되었습니다!
곧 연락 드리겠습니다.
로데슈바르즈 팀 드림
감사합니다.
요청이 성공적으로 전송되었습니다!
곧 연락 드리겠습니다.
로데슈바르즈 팀 드림