Passive components
Passive components include a large variety of building blocks for RF and digital designs. They range from RF filters and combiners, switches, couplers all the way to cables, connectors and PCB boards.
The network analyzers from Rohde & Schwarz offer the right range from S parameter measurements to time domain reflectometry looking for anomality on the signal path. The multiport solutions allow fast and cost-efficient multi-site production testing.
T&M Solutions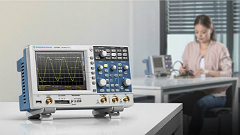 Determining current-voltage characteristics with the oscilloscope
Faulty components can be identified quickly by analyzing their current-voltage characteristics. A component tester is especially convenient for this purpose. The R&S®RTC1000 oscilloscopes offers a built-in component tester.
---
Precise measurements on high-speed digital signal lines with the R&S®ZNB
With continuously increasing data rates, signal integrity aspects of high-speed digital designs and the components used become more and more challenging. Particularly at higher data rates, vector network analyzers (VNA) are increasingly replacing traditional time domain reflectometry (TDR) setups for testing passive components such as connectors, cables, PCBs, etc. Users benefit from the higher accuracy, speed and ESD robustness of the VNA, making the VNA the instrument of choice in this field.
---
Fast and accurate passive intermodulation (PIM) measurements
Unique automatic level controlled (ALC) based test setup using the R&S®ZVA vector network analyzer and R&S®BBA150 broadband amplifiers provides highly accurate and reproducible results in minimum test time.
---
Automotive Ethernet: Verifying BroadR-Reach® interfaces
Ethernet communications has been introduced in automotive networks to enable fast and cost efficient data communications, e.g. for the rearward camera or audio/video streaming. In the OPEN alliance (www.openSIG.org), the automotive industry has standardized the BroadR-Reach® physical layer as the automotive Ethernet communications standard.
---
USB power delivery compliance testing with Rohde & Schwarz scopes
The USB Implementers Forum (USB-IF) enhanced USB 2.0 and USB 3.1 with the USB power delivery specification. This specification enables flexible power delivery up to 100 W (up to 20 V and 5 A).
Related Product Groups
Thank you.
Your request was successfully sent!
We will get in touch with you soon.
Your Rohde & Schwarz Team