Date
11-May-2022 - 12-May-2022
Country
Germany, Bonn, World Conference Center Bonn, Foyer F10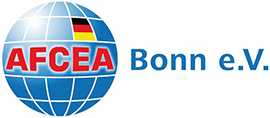 AFCEA
AFCEA Bonn is committed to providing a specialised forum of modern information and communication technology.
In addition to being major players in the IT and communications industry, the corporate members include a large number of medium-sized and smaller companies, primarily from the Bonn-Cologne-Koblenz region.
AFCEA offers an information platform for defence, internal security, public administration, teaching and research. The Bundeswehr, authorities and organisations with public security and eGovernment tasks formulate their expectations and challenges, companies present their solutions, science shows trends in ICT.