Headend
Encoding & multiplexing Solution
Rohde & Schwarz has been the first company to design a completely IT based encoder and multiplexer solution. The R&S®AVHE 100 systems are fully scalable for future growth and allow for easy upgrade of the Rohde & Schwarz encoder and multiplexer to new formats.
The built-in headend management system gives easy access to all settings via a well structured GUI on a single screen and covers all integrated system components like e.g. decoder, encoder, statistical multiplexer, scrambler, T2MI gateway and many more.
Supports encoding in MPEG2, MPEG4/H.264 (AVC) and H.265 (HEVC) for DVB-S/S2, DVB-T/T2 and ISDB-TB.
Multiplexer
Integrated DVB-S/DVB-S2 receiver with two CI slots
ASI input for local services
TS remultiplexing and BTS output generation
Thank you.
Your request was successfully sent!
We will get in touch with you soon.
Your Rohde & Schwarz Team
---
HEVC Webinar
Watch our webinar now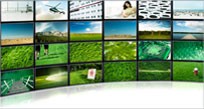 HEVC in a real-world environment
---
---
---
Stay informed about Broadcast & Media