Data Converter Design
With a wide range of applications in communications, automotive and many industry fields, data converters are an essential part of all cutting-edge electronic and RF designs.
New generations of high-speed data converters address the need for growing bandwidths and data rates and put increasing demands on clock speed and digital processing power. On the other hand, aspects such as low power consumption and heat dissipation present additional challenges during the development and verification of electronic and RF designs.
T&M Solutions
Verifying the clock source
A clear clock signal is essential to the performance of every analog and digital circuit desgin. Learn how to verify your clock signal by taking advantage of fast and precise jitter performance measurements (with R&S®FSWP phase noise analyzer)
---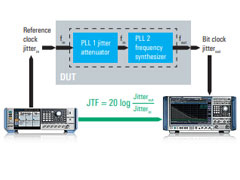 Verifying additive phase noise and jitter attenuation of PLLs in high-speed digital designs
Increasing data rates in high-speed digital designs and wireless communications require SerDes PLLs and clock synthesizers with low additive phase noise and high jitter attenuation. Modern designs often follow a two-stage architecture, consisting of a jitter-attenuator and a frequency-synthesizer stage. Due to their high phase noise sensitivity, phase noise analyzers are the instruments of choice for these tests. To stimulate the PLL, an additional signal source with ultra low phase noise is required.
---
Verifying the true jitter performance of clocks in high-speed digital designs
As the data rates in high-speed digital designs increase, the limits for overall system jitter become tighter.
---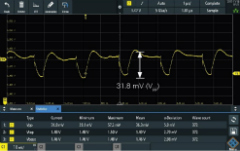 Power integrity measurements with R&S®RTM3000 and R&S®RTA4000 oscilloscopes
Combining a low-noise oscilloscope with a power rail probe, developed uniquely for measuring power rails, provides a measurement system that delivers measurements that are more accurate.
---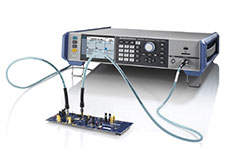 When you need an ideal clock source
Today's digital designs and data converters with high rates require clean clocks with minimal jitter. Modern digital designs and data converters can only work as well as the applied clock source allows. See how to get the best performance by using a state-of-the-art clock source.
---
Accurate and fast power integrity measurements
Increasing demands on power distribution networks have resulted in smaller DC rails, as well as a proliferation of rails that ensure clean power reaches the pins of integrated circuits. Meet the challenge of measuring ripple, noise and transients on today's low voltage DC power rails with unknown precision and speed.
---
Precise measurements on high-speed digital signal lines with the R&S®ZNB
With continuously increasing data rates, signal integrity aspects of high-speed digital designs and the components used become more and more challenging. Particularly at higher data rates, vector network analyzers (VNA) are increasingly replacing traditional time domain reflectometry (TDR) setups for testing passive components such as connectors, cables, PCBs, etc. Users benefit from the higher accuracy, speed and ESD robustness of the VNA, making the VNA the instrument of choice in this field.
---
A 1 MHz to 50 GHz Direct Down-Conversion Phase Noise Analyzer with Cross-Correlation
A new phase noise test instrument covers the frequency range from 1 MHz to 50 GHz with direct down-conversion analog I/Q mixers and baseband signal sampling. The traditional PLL has been replaced by a digital FM demodulator for phase detection and frequency tracking. An additional AM demodulator enables concurrent measurement of phase and amplitude noise.
Realted Product Groups
Thank you.
Your request was successfully sent!
We will get in touch with you soon.
Your Rohde & Schwarz Team