Antennas
Antennas are getting more and more attention in the system level design due to MIMO and active beamforming. Beam forming is a standard feature in radar applications, but with 5G and microwave frequencies in the mobile communications, beam forming will also become an essential feature in mobile communications. Especially at millimeter wave frequencies, it is necessary to overcome the free field attenuation at the higher frequencies.
Rohde & Schwarz offers a a full range of solutions for chambers and shield boxes in almost any physical size supporting far field and near field testing including software solution for nearfield to far field transformation.
To characterize the antennas, vector network analyzers are typically the product of choice, but in the end, one needs to make sure the antenna performs in the final applications with 5G signals for example.
T&M Solutions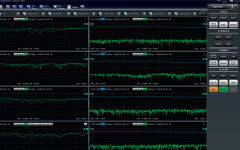 Verify beamformer ICs for phased array antennas
Integrated beamformer ICs shrink the size of antenna feed electronics. Multiport network analyzers shrink the necessary test setup down to one instrument.
---
OTA characterization of passive array antennas for fast testing
Beamforming is common in radar technology and increasingly becoming the technology of choice for both the wireless and satellite communications industry. This application card describes the use of a unique vector network analyzer (VNA) that meet all the challenges of testing passive antenna arrays.
---
Characterizing Active Phased Array Antennas
This application note aims to explain test procedures and give recommendations towards characterization of the relevant parameters for active phased array antennas and their passive subsystem, as often used in applications for Mobile Communication and RADAR.
---
Antenna Array Testing - Conducted and over the Air, the way to 5G
This white paper provides an overview of test solutions addressing current and future requirements for antenna verification including both conducted and over-the-air (OTA) test methods, which result from applying Massive MIMO antenna technology.
---
Millimeter-Wave Beamforming: Antenna Array Design Choices & Characterization
This white paper introduces some of the fundamental theory behind beamforming antennas. In addition to these basic concepts, calculation methods for radiation patterns and a number of real world measurement results for linear arrays are shown.
---
Share a 1 GHz reference to obtain phase coherent signals
Phase stability over time is a key characteristic for phase-coherent signals. A common 1 GHz reference signal maintains high phase stability between the RF outputs of multiple R&S®SGT100A SGMA vector RF sources.
---
Testing of LTE beamforming
LTE is becoming the predominant wireless technology. Among several new features of this standard, the multiple input multiple output (MIMO) technology offers various advantages. It improves the throughput, extends the reach, reduces interference and improves the signal to interference plus noise ratio (SINR) with beamforming. LTE supports various modes in order to optimize the transmission settings.
---
Multichannel phase coherent signal generation
A perfectly matched set of Rohde & Schwarz signal generators generates multiple phase coherent signals up to 40 GHz.
---
Speeding up reflection measurements on antenna systems
Reflection measurements are a common way of assessing antenna system performance. When a minimum amount of the transmitted signal is reflected, it indicates that the transmission energy can reach the intended coverage. Undesired high reflection causes the system to be inefficient and can damage components. Reflection measurements can be expressed in terms of return loss, VSWR and reflection coefficient.
---
The challenge of testing 5G antenna performance
Rohde & Schwarz presents the R&S®ATS1000 antenna test system, a highly accurate solution for testing 5G antennas up to mmWave frequencies in a mobile shielded chamber.
Related Product Groups
Thank you.
Your request was successfully sent!
We will get in touch with you soon.
Your Rohde & Schwarz Team