Munich 10-Feb-2017
Value and performance: powerful T&M equipment from Rohde & Schwarz at embedded world 2017
Exceptional quality and innovation doesn't have to be expensive. And Rohde & Schwarz proves this at embedded world in Nuremberg with its new entry-level T&M solutions. The electronics expert will also be showcasing the latest R&S RTO2000 high-performance oscilloscope up to 6 GHz. It is ideal for IoT applications and for debugging fast communications interfaces. Other innovations include new accessories specifically targeted at power integrity measurements.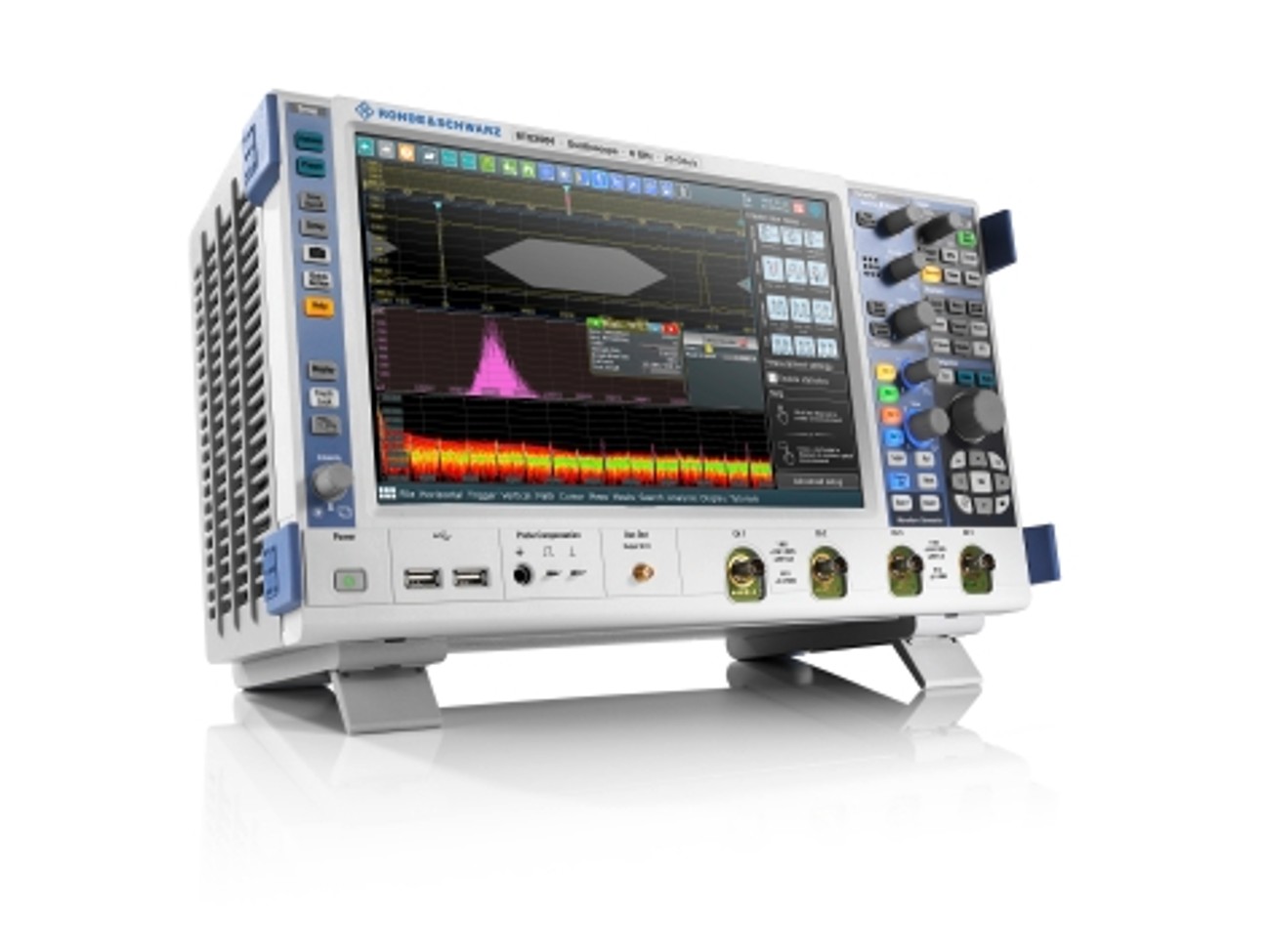 R&S RTO digital oscilloscope
One of the highlights at the Rohde & Schwarz booth (4-218) at embedded world 2017 in Nuremberg is the new 6 GHz model of its extremely powerful R&S RTO2000 lab oscilloscopes. Their ability to handle multidomain applications makes the compact lab oscilloscopes perfect for IoT applications. Their outstanding characteristics are ideal both for demanding T&M tasks, such as debugging fast communications interfaces, and for the increasingly important power integrity measurements.
Ideal solutions for power integrity measurements
Rohde & Schwarz addresses this area with new accessories. The T&M specialist has introduced two new probes specifically designed for power integrity measurements for use with its R&S RTE and R&S RTO2000 oscilloscopes. The R&S RT-ZPR20 is a highly sensitive and extremely low-noise power rail probe with a bandwidth of 2 GHz. The large offset range of ±60 V enables analysis of the smallest signal interferers during power integrity measurements, even on DC power supplies with a high voltage level. The R&S RT-ZP1X passive 1:1 probe is especially suitable for voltage measurements in the millivolt range.
Eight test instruments in one handheld
Rohde & Schwarz continually expands the functionality offered by its R&S Scope Rider, which now combines eight measurement instruments into one robust, portable oscilloscope, making it the most versatile oscilloscope in its class. New features include a spectrum analyzer, a frequency counter and a harmonic analyzer for evaluating the quality of power supplies. A new CAN/LIN trigger and decoder option is also available for automotive applications. Users always have the tools they need, both on the road when performing installation, service and maintenance activities and in the lab. Since the fully insulated, handheld instrument meets measurement category CAT IV requirements, it can be used to perform measurements at the source of low-voltage installations up to 600 V.
Rohde & Schwarz will present these and other highlights from its growing oscilloscope and T&M equipment portfolio from March 14 to 16, 2017, at embedded world in Nuremberg, hall 4, booth 4-218.
Name
Type
Version
Date
Size
High Resolution Press Pictures
Rohde & Schwarz
The Rohde & Schwarz technology group develops, produces and markets innovative communications, information and security products for professional users. The group's test and measurement, broadcast and media, aerospace | defense | security, networks and cybersecurity business fields address many different industry and government-sector market segments. On June 30, 2018, Rohde & Schwarz had approximately 11,500 employees. The independent group achieved a net revenue of approximately EUR 2 billion in the 2017/2018 fiscal year (July to June). The company has its headquarters in Munich, Germany. Internationally, it has subsidiaries in more than 70 countries, with regional hubs in Asia and America.
R&S® is a registered trademark of Rohde & Schwarz GmbH & Co.KG.
Request information
Do you have questions or need additional information? Simply fill out this form and we will get right back to you.