News Search
Find newsworthy headlines from Rohde & Schwarz, including technical articles, press releases, NEWS magazine articles, and more.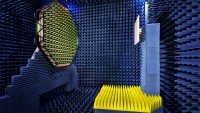 13-Feb-2019 | Press Release | Test & measurement
Rohde & Schwarz demonstrates powerful test solutions for 5G NR base stations at MWC 2019
5G is becoming a reality. Rohde & Schwarz will present its test solutions for 5G base stations and the associated massive MIMO antenna arrays and amplifiers at Mobile World Congress 2019. Highlights include signal analysis and signal generation solutions for 5G base station tests in the millimeterwave range and an innovative OTA test solution. It is the first solution worldwide that allows the far-field properties of 5G antenna arrays to be characterized at short distances. A cloud based test solution for automated 5G production tests will also be on display.