IEEE 802.11ac PHY tests
The IEEE 802.11ac amendment significantly increases the data throughput of IEEE 802.11 so that performance of a wireless network can be equivalent to that of a wired network. Data rates of 293 Mbit/s (using the mandatory features) and up to 6.9 Gbit/s (using all of the optional features) are possible. The table below provides a quick overview of the mandatory vs. optional PHY layer properties of 11ac.
Properties
Mandatory
Optional
20 MHz, 40 MHz, 80 MHz channels
x
 
1 spatial stream
x
 
BPSK, QPSK, 16QAM, 64QAM
x
 
256QAM
 
x
80+80 MHz contiguous and noncontiguous channels,
160 MHz channels
 

x
2 to 8 spatial streams
 
x
Multi-user MIMO (MU-MIMO)
 
x
400 ns short guard interval
 
x
Space time block coding (STBC)
 
x
Low density parity check (LDPC)
 
x
Testing these challenging IEEE 802.11ac features requires test equipment that is not only capable of supporting these features but also provides high performance – even higher than the requirements for the test devices. Rohde & Schwarz offers a wide selection of test and measurement equipment that meets the needs of IEEE 802.11ac WLAN test engineers.
WLAN IEEE 802.11ac Receiver Tests
Receiver and component tests require reference signals with very low distortion. Rohde & Schwarz offers two vector signal generators enabling IEEE 802.11ac compliant waveforms generation with 80 + 80 MHz and full 160 MHz bandwidth support. The new R&S®SMW200A is a high-end vector signal generator for highest demands on signal quality with an EVM of –49 dB and 0.05 dB frequency response over 160 MHz bandwidth. The R&S®SMBV100A is the first mid-class vector signal generator offering 160 MHz bandwidth in a compact form factor. Both instruments feature a frame block sequencer that allows easy configuration and concurrent signal generation of all major WLAN IEEE 802.11 standards. This is particularly useful when testing DUTs supporting multiple IEEE 802.11 standards.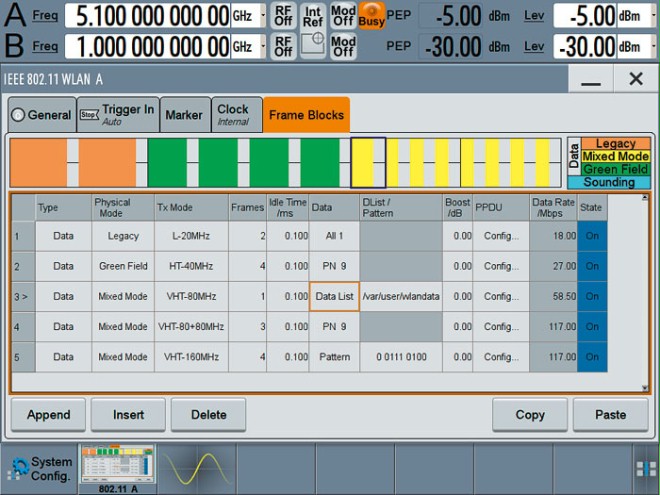 IEEE 802.11ac Transmitter Tests
Transmitter tests require spectral measurements such as ACLR and spurious emissions as well as modulation accuracy (e.g. EVM) and analysis of the signal content. Rohde & Schwarz signal and spectrum analyzers, such as the R&S®FSV and R&S®FSW, offer 160 MHz demodulation bandwidth to perform both tasks easily and accurately. Large touchscreens make signal configuration fast and easy and present comprehensive, clearly arranged measurement results.
The outstanding performance of the R&S®FSW high end spectrum analyzer permits the precise signal analysis, necessary when characterizing DUTs. For a 160 MHz bandwidth and 256QAM modulation, the residual EVM is as low as –47 dB. The high speed of the spectrum analyzer enables fast measurements during conformance and verification tests. The EVM value of one frame can be acquired in about 35 ms.
With the R&S®FSV, Rohde & Schwarz was first to offer a mid-class spectrum analyzer with 160 MHz demodulation bandwidth as a cost-effective instrument for transmitter and component tests in R & D and production.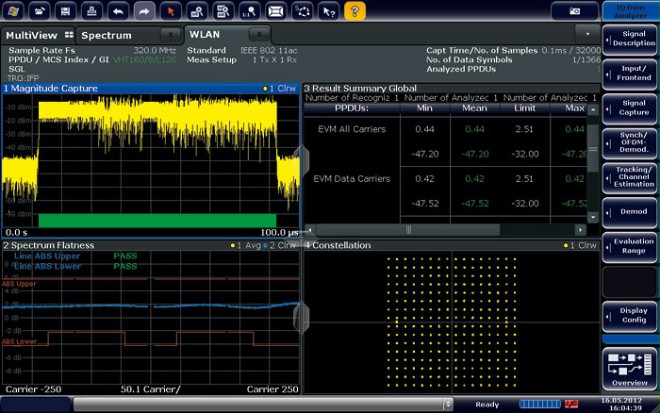 Resources for IEEE 802.11ac
The webinar also outlines the challenging test requirements the new features bring about and shows the 802.11ac test solutions from Rohde & Schwarz.

The option R&S®FSW-K91/91ac enables to analyze and demodulate an up to 160 MHz wide WLAN 802.11ac signal.

This white paper provides a brief technology introduction on the 802.11ac amendment to the successful 802.11-2007 standard.

This application note gives an introduction to basic MIMO concepts and terminology and explains how MIMO is implemented in different radio communications standards.

This application note demonstrates the generator test solutions and explains step-by-step how to configure a test signal. Several measurements are presented to illustrate EVM performance.

Flexible signal generation and accurate signal analysis make Rohde & Schwarz instruments ideal for testing IEEE 802.11ac signals with bandwidths up to 160 MHz
Featured Products for IEEE 802.11ac
Rohde & Schwarz test instruments are based on multistandard platforms supporting WLAN, other noncellular standards and all major cellular standards in one box.
Thank you.
Your request was successfully sent!
We will get in touch with you soon.
Your Rohde & Schwarz Team