R&S®Trusted Communicator
Secure messenger for iOS and Android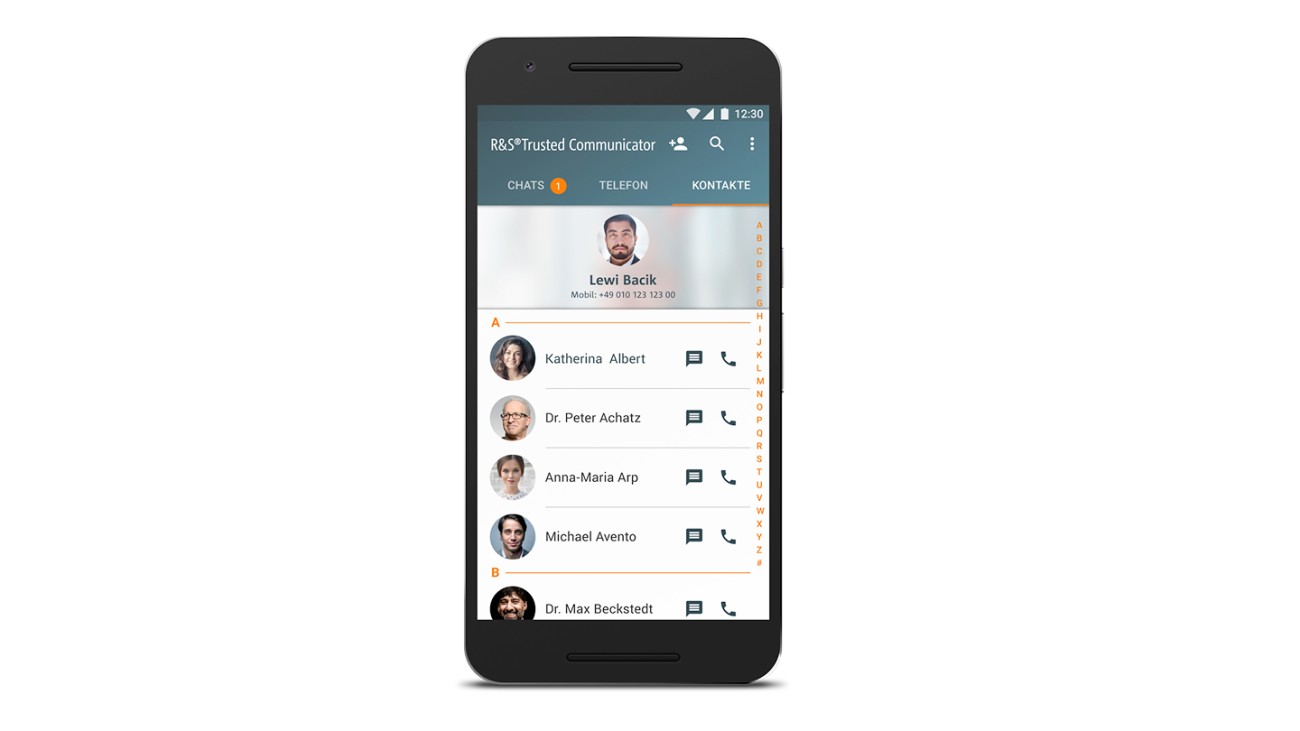 Key facts
Secure messenger app for iOS and Android
Encrypted phone calls
Crypto agile solution
Intuitive user interface
R&S®Trusted Communicator
Messagging and voice encryption for iOS and Android

R&S®Trusted Communicator is the first communication and collaboration platform on the market that offers a highly secure messenger with encrypted phone calls in a single solution. It ensures that instant messagges and voice communication is encrypted. Meta information, like GPS positions, are not transmitted. Plus, it can be easily integrated into your own Public Key Infrastructure (PKI).
Features & benefits
Messagging and voice encryption for iOS and Android
R&S®Trusted Communicator combines secure "instant messaging" and encrypted phone calls in one app. Be it text messages, emojis, file attachments or your location, all your data is end-to-end encrypted. The same applies to your phone calls. These are also encrypted locally using AES-256 encryption on the smartphone and then decrypted again on the smartphone of your contact. Multi-user chats can be started at any time.
Crypto agility
Secure by design

In times of quantum computers and increasing computing power even the most sophisticated algorythms might be decrypted. You can decide which cryptographic methods and standards should be used in your R&S®Trusted Communicator and adapt them in a timely manner for maximun crypto agility. In its standard version, R&S®Trusted Communicator provides NATO SCIP cryptographic standards.
Mobile device management
Solutions for enterprise mobility

R&S®Trusted Communicator is compatible with all common mobile device management and enterprise mobility solutions using the App-Config standard. As an alternative, we also offer our own management appliance, the R&S®Trusted Object Manager
Easy to use
Intuitive user interface

R&S®Trusted Communicator is available in an iOS and Android version. Its user interface is easy to use and designed to optimally suite to the operating system, providing flawless user experience.
Request information
Do you have questions or need additional information? Simply fill out this form and we will get right back to you.
General and legal information
Manufacturer's recommended retail price (RRP). The price shown does not include VAT.