SwissQual QualiPoc Android - Media center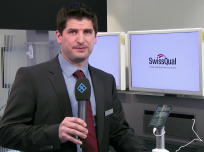 SwissQual QualiPoc Android - Video
SwissQual, a Rohde & Schwarz company, presented smartphone-based video streaming testing including video MOS with its QualiPoc Android at the GSMA Mobile World Congress 2015 in Barcelona. QualiPoc Android performs YouTube video streaming tests on a smartphone and measures the video quality including video MOS from a real end-user perspective.
Thank you.
Your request was successfully sent!
We will get in touch with you soon.
Your Rohde & Schwarz Team