News Search
Find newsworthy headlines from Rohde & Schwarz, including technical articles, press releases, NEWS magazine articles, and more.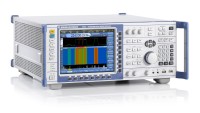 09-Jan-2019 | Press Release | Security
Taiwan's regulatory authority commissions nationwide spectrum monitoring system from Rohde & Schwarz
The spectrum monitoring solution from Rohde & Schwarz convinced the Taiwanese National Communications Commission (NCC). The Rohde & Schwarz system scored with an integrated hybrid geolocation method that combines angle of arrival (AoA) and time difference of arrival (TDOA) measurements. This allows the NCC regulatory authority to locate sources of interference in the radio spectrum quickly and efficiently, even in dense urban environments. For this and other reasons, the Rohde & Schwarz technology group clearly prevailed against competitors for the first time in Taiwan.