News Search
Find newsworthy headlines from Rohde & Schwarz, including technical articles, press releases, NEWS magazine articles, and more.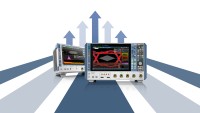 17-Sep-2020 | Press Release | Test & measurement
Rohde & Schwarz offers bandwidth upgrades for selected oscilloscopes at no extra charge
Bandwidth is the most important aspect of an oscilloscope. To support design engineers in current and future design challenges, Rohde & Schwarz is introducing an attractive promotion for selected oscilloscope models: when purchasing an R&S RTO2000 or R&S RTP, now customers can upgrade the bandwidth with no extra costs.