Search for Products
Find products for aerospace, defense, security, broadcast & media, networks & cybersecurity, and test & measurement.
Signal Generator - Test & Measurement
Rohde & Schwarz offers different analog and digital signal generators: from RF vector signal generators, baseband signal generators, microwave signal generators.

R&S®ZZA-KN21 19" Rack Adapter
Overview Key factsThe R&S®ZZA-KN21 is a 19" adapter with spacing module for mounting a half 19" housing with 1 RU in a standard 19" rack. To mount the appropriate , all one needs to do is to remove a few elements, e.g. the instrument's feet. The equipment supplied includes all required mechanical parts and fixing elements, as well as mounting instructions.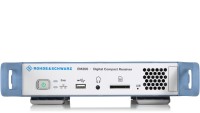 R&S®EM200
The R&S®EM200 digital compact monitoring receiver is a cost-efficient and optimized solution for remote controlled spectrum monitoring and geolocation. It detects, analyzes, demodulates and locates emissions from 8 kHz to 8 GHz.