03.03.2022 | Press Release | Mobile network testing
BTRC to assess and benchmark the quality of Bangladesh's mobile networks using Rohde & Schwarz test equipment
The Bangladesh Telecommunication Regulatory Commission (BTRC) has selected Rohde & Schwarz mobile network testing solutions to assess and benchmark the performance, coverage and capacity of the country's mobile network operators. With the goal of improving the quality of service (QoS) and quality of experience (QoE) for end users, the test equipment allows BTRC officials to follow an internationally standardized and fully transparent process based on the European Telecommunications Standards Institute (ETSI).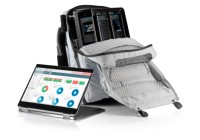 23.11.2020 | Press Release | Mobile network testing
Rohde & Schwarz enables Optus to deliver optimal 5G quality of experience with mobile network testing solution
Optus has chosen to continue their mobile network benchmarking efforts with test equipment from Rohde & Schwarz. Through a competitive tender, Rohde & Schwarz has been selected by Optus to replace the existing 4G systems and to provide multiple 5G mobile benchmarking systems. These will measure end-to-end performance of mobile networks, in voice, video and data modes as well as for signal coverage. These measurements will enable continuous improvement by Optus to the quality of experience seen by their subscribers.