Search for Products
Find products for aerospace, defense, security, broadcast & media, networks & cybersecurity, and test & measurement.

R&S®HE600 Antenna
Overview Key facts The R&S® HE600 Active Omnidirectional Receiving Antenna is designed as a monitoring antenna for vertical polarization in the frequency range 20 MHz to 8 GHz.
Monitoring antennas
Monitoring antennas for mobile and stationary use, providing complete coverage of the frequency range from 900 Hz to 40 GHz.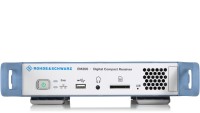 R&S®EM200
The R&S®EM200 digital compact monitoring receiver is a cost-efficient and optimized solution for remote controlled spectrum monitoring and geolocation. It detects, analyzes, demodulates and locates emissions from 8 kHz to 8 GHz.