R&S®HK014E VHF/UHF coaxial dipole
100 MHz to 2 GHz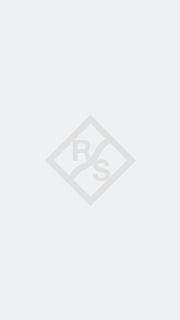 Key Facts
Extremely wide frequency range
Filled-in vertical radiation pattern
High protection against nearby lightning strikes
Sturdy design
Particularly suitable for use on ships
VHF/UHF omnidirectional antenna for vertical polarization
The R&S HK014E VHF/UHF coaxial dipole is a vertically polarized omnidirectional antenna for both stationary and mobile use. It is designed to operate under tough mechanical and climatic conditions and covers the receive and transmit frequency range from 100 MHz to 2000 MHz. A mast stub mounted on the dipole's base plate provides a convenient antenna interface for customer applications. The entire antenna system is splash water resistant. The antenna can be installed suspended or upright.
Features & benefits
Extremely wide frequency range
Saves money and maintains performance
The R&S HK014E covers the extremely wide frequency range from 100 MHz to 2000 MHz, saving money and space that would be needed to mount a multiple antenna system. Omnidirectional coverage is not compromised by mounted antennas or mast structures nearby.
Filled-in vertical radiation pattern
For preventing coverage gaps and communications drop-offs
The R&S HK014E is designed to optimize vertical radiation patterns over the whole operating frequency range. Surface currents on the supporting mast are highly suppressed. The R&S HK014E is better at filling gaps or drops in radiation intensity than similar antennas of this build and frequency range.
Low wind load and sturdy design
Operates even in tough mechanical and climatic conditions
The R&S HX002H1 HF dipole features a low wind load. The antenna is also very sturdy and can withstand wind speeds of up to 275 km/h. It is designed for high shock and vibration requirements such as those onboard ships.
High protection against nearby lightning strikes
The R&S HK014E is highly protected against nearby lightning strikes. Direct lightning strikes may damage the antenna. However, the antenna flange and mast design will direct lighting energy towards the ground. The mast must comply with current lightning protection regulations.
General accessories
Descripción
Tiltable mast
Diplexer for the 100 MHz to 174 MHz/225 MHz to 450 MHz ranges
Información general y jurídica
Manufacturer's recommended retail price (MSRP). The price shown does not include VAT. Prices and offers are only intended for entrepreneurs and not for private end consumers.
Términos y condiciones del sorteo de premios con motivo del 10° aniversario de los osciloscopios de Rohde & Schwarz
1. El sorteo «10 años de osciloscopios de Rohde & Schwarz» (en adelante el «sorteo») está organizado por Rohde & Schwarz GmbH & Co. KG, Mühldorfstraße 15, 81671 Múnich, Alemania, tel. +49 89 41 29 0 (en adelante «R&S»).
2. Todos los participantes pueden inscribirse en el sorteo entre el 1 de enero de 2020 y el 31 de diciembre de 2020 indicando su nombre, el nombre de su compañía y la dirección de correo electrónico empresarial.
3. La participación es gratuita y no está vinculada a la compra de bienes o servicios.
4. El sorteo está destinado únicamente a personas jurídicas, y solamente las personas jurídicas tienen facultad para recibir los premios. No está permitida la participación de una persona individual en su propio nombre y cuenta, sino que deberá hacerlo como representante de una persona jurídica rellenando el formulario de participación en nombre y por cuenta de dicha persona jurídica.
5. Los participantes pueden ganar uno de los 10 R&S®RTB2000 sorteados en el periodo entre el 1 de enero de 2020 y el 31 de diciembre de 2020:
Premio: 1 osciloscopio digital R&S®RTB2000
6. El sorteo se celebra en la sede central de R&S, Muehldorstrasse 15, 81671 Múnich (Alemania). Los ganadores de los premios serán informados por correo electrónico en un plazo de cinco (5) días laborables.
7. El representante autorizado de la persona jurídica deberá notificar a R&S que acepta el premio. En caso de denegar la aceptación o de no obtenerse respuesta en un plazo de dos (2) semanas, se sorteará un nuevo ganador. Si no puede determinarse un ganador en un espacio de cuatro (4) semanas, el sorteo se dará por finalizado y el premio se dará por perdido.
8. Los empleados de R&S, sus familiares, así como cualquier persona que esté implicada en el proceso del sorteo y sus familiares quedan excluidos de rellenar el formulario de participación.
9. No está permitido abonar el equivalente en metálico ni intercambiar los premios. Los premios son intransferibles. Todos los impuestos, gravámenes, tasas de aduana, cuotas y otros pagos exigidos en el país del participante correrán a cargo del participante.
10. Los datos personales se procesarán exclusivamente para los fines de este sorteo de premios y se eliminarán cuatro (4) semanas después de finalizar el mismo, salvo otro acuerdo.
11. R&S se reserva el derecho de descalificar del concurso a cualquier participante que no cumpla los presentes términos y condiciones. En estos casos, los premios también podrán retirarse con efecto retroactivo. En caso de retirarse un premio con efecto retroactivo como consecuencia del incumplimiento de los presentes términos y condiciones, el respectivo participante deberá devolverlo, corriendo con los gastos correspondientes, a la dirección de R&S indicada en el punto 1, y se sorteará un nuevo ganador.
12. Los participantes no tienen derecho a reclamar los premios de este sorteo, ni está previsto ningún recurso legal a este respecto.
13. El sorteo, y cualquier relación contractual que se derive del mismo entre R&S y el respectivo participante, se regirán e interpretarán según la legislación de Alemania, excluyendo todo recurso por conflictos de leyes. Los tribunales de Múnich, Alemania, tendrán la competencia exclusiva en caso de cualquier litigio relacionado directa o indirectamente con la participación en este concurso.
* "fast delivery" inside 7 working days applies to the Rohde & Schwarz in-house procedures from order processing through to available ex-factory to ship.