Search for Products
Find products for aerospace, defense, security, broadcast & media, networks & cybersecurity, and test & measurement.

R&S®TS7124 RF Shielded Box
The R&S®TS7124 RF test boxes enable reliable and reproducible measurements when a shielded test environment is needed.Brief DescriptionRF shielded boxes are essential for reliably testing radio interfaces.
System Components - Test & Measurement
For demanding computational tasks, Rohde & Schwarz offers system controllers, switch units and test chambers that are versatile and flexible in everyday use.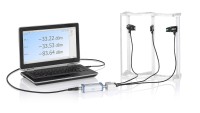 R&S®NRPM
NRPM OTA Power Measurement Solution - extremely accurate power measurement for CW or modulated signals. 18 GHz to 90 GHz for 5G, WLAN 802.11ad and 802.11ay