News Search
Find newsworthy headlines from Rohde & Schwarz, including technical articles, press releases, NEWS magazine articles, and more.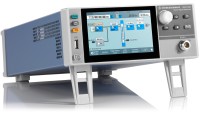 22-Jul-2020 | Press Release | Test & measurement
Rohde & Schwarz presents economy vector signal generator for the automotive, IoT and education sectors
The new R&S SMCV100B vector signal generator targets automotive, broadcast, navigation and wireless applications. It is the first commercial multistandard platform and fully configurable with keycode options. The vector signal generator is ideal for numerous applications, ranging from the lab to production. Wherever different technologies converge, it can be perfectly adapted to specific application requirements.