News Search
Find newsworthy headlines from Rohde & Schwarz, including technical articles, press releases, NEWS magazine articles, and more.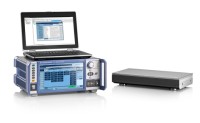 04-Jan-2017 | Press Release | Broadcast and Media
CES 2017: Rohde & Schwarz presents new HLG test solution for latest-generation video consumer electronics
Rohde & Schwarz is expanding its R&S VTx video tester family to include tests for HLG-capable devices in line with the HDMI 2.0b standard. Hybrid Log-Gamma (HLG) is an enhancement to the high dynamic range (HDR) technique that allows good-quality replay of state-of-the-art picture material even on non-HDR-capable devices. This is a crucial factor in the successful introduction of the spectacular HDR technique for a more intensive and realistic home theater experience.