News Search
Find newsworthy headlines from Rohde & Schwarz, including technical articles, press releases, NEWS magazine articles, and more.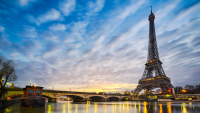 29-Aug-2019 | Press Release | Test & measurement
Rohde & Schwarz brings its top-end microwave test solutions to EuMW 2019 on the Seine
Europe's premier microwave, RF, wireless and radar event – European Microwave Week – returns to Paris in 2019. Rohde & Schwarz, an industry-leading T&M specialist, will be present with its extensive and innovative product and solutions portfolio, addressing various applications in the areas of RF and microwave component testing, over-the-air antenna characterization and conformance testing.