Search for Products
Find products for aerospace, defense, security, broadcast & media, networks & cybersecurity, and test & measurement.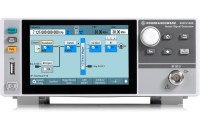 R&S®SMCV100B
The R&S®SMCV100B vector signal generator is used for generating wireless, cellular, broadcast, navigation or customer specific RF signals in the frequency range from 4 kHz up to 7.125 GHz.
Signal Generator - Test & Measurement
Rohde & Schwarz offers different analog and digital signal generators: from RF vector signal generators, baseband signal generators, microwave signal generators.