News Search
Find newsworthy headlines from Rohde & Schwarz, including technical articles, press releases, NEWS magazine articles, and more.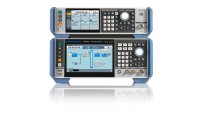 18-Jun-2018 | Press Release | Test & measurement
Two new signal generators from Rohde & Schwarz set standards in the class up to 6 GHz
Rohde & Schwarz introduces two new compact midrange signal generators that offer versatility and performance in a very small footprint. The R&S SMB100B analog RF signal generator and the R&S SMBV100B vector signal generator set new standards in their class, offering outstanding spectral purity, unprecedented output power and easy, intuitive touchscreen operation. The R&S SMB100B and the R&S SMBV100B specifically address the requirements of RF semiconductor development, telecommunications, and aerospace & defense.