Search for Products
Find products for aerospace, defense, security, broadcast & media, networks & cybersecurity, and test & measurement.
R&S®SMBVB-K300 Pulse Sequencing (R&S®Pulse Sequencer software)
Brief descriptionThe R&S®Pulse Sequencer software together with the R&S®SMBVB-K300 option makes it possible to generate pulsed signals with basic modulation schemes. Signals with simple pulses, pulse trains and repetition of pulses can be generated.
Signal Generator - Test & Measurement
Rohde & Schwarz offers different analog and digital signal generators: from RF vector signal generators, baseband signal generators, microwave signal generators.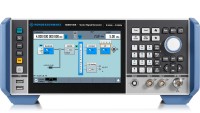 R&S®SMBV100B
The R&S®SMBV100B mid-range vector signal generator features 500 MHz modulation bandwidth, ultra high output power, excellent EVM and ACP up to 6 GHz.