ARDRONIS
Automatic Radio-controlled Drone Identification Solution
The R&S®ARDRONIS automatic radio-controlled drone identification solution is a comprehensive solution with specialized capabilities for detecting, identifying, classifying, direction finding, recording and disrupting the remote control link to a drone.
The solution is optimized for countering the threats arising from radio-controlled (RC) drones. Through successful trials, deployments with key customers, involvement in protecting various important and public events as well as VIP persons, R&S®ARDRONIS has proven to be an effective technical approach.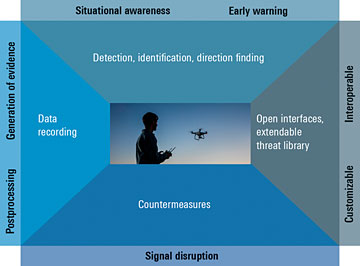 R&S®ARDRONIS is a reliable approach to effectively detect and monitor drone activity and achieve early warning capability. It meets the challenge of identifying the direction of operators by finding the direction of active remote controls and drones. Effective countermeasures can be deployed in time to counter and prevent a radio-controlled drone from entering a defined area by disrupting the radiocommunications link. The capabilities and key functionalities of R&S®ARDRONIS include identification, direction finding and countermeasures for threats imposed by radio-controlled drones. These functionalities are categorized in four packages:
R&S®ARDRONIS Detection (R&S®ARDRONIS-I)
R&S®ARDRONIS Direction (R&S®ARDRONIS-D)
R&S®ARDRONIS Disruption (R&S®ARDRONIS-R)
R&S®ARDRONIS Protection (R&S®ARDRONIS-P)
ARDRONIS
R&S®ARDRONIS-I

Automatic reliable detection and identification of radio-controlled drones

Effective drone monitoring based on RC link for robust detection
Early warning: very fast response
Full-spectrum awareness of drone activities
Благодарим вас.
Ваш запрос был успешно отправлен!
Мы свяжемся с Вами в ближайшее время.
Коллектив Rohde & Schwarz