Oscillators, Clocks and PLLs
Oscillators are used in analog as well as in digital designs. They work as clocks for digital designs or local oscillators (LO) to reach the target RF frequency through up- or downconversion.
Oscillators have various different topologies, ranging from crystal synthesizer based PLL designs to DDS techniques. Either way, the output signal have to be characterized and tested to make sure the device or module meets the design specifications for clock accuracy, signal purity and stability.
Rohde & Schwarz provides solutions to test any oscillator using Oscilloscopes, Spectrum Analyzers, Phase Noise Analyzer and VCO Testers.
T&M Solutions
A 1 MHz to 50 GHz Direct Down-Conversion Phase Noise Analyzer with Cross-Correlation
A new phase noise test instrument covers the frequency range from 1 MHz to 50 GHz with direct down-conversion analog I/Q mixers and baseband signal sampling. The traditional PLL has been replaced by a digital FM demodulator for phase detection and frequency tracking. An additional AM demodulator enables concurrent measurement of phase and amplitude noise.
---
Verifying the clock source
A clear clock signal is essential to the performance of every analog and digital circuit desgin. Learn how to verify your clock signal by taking advantage of fast and precise jitter performance measurements (with R&S®FSWP phase noise analyzer)
---
Comparison of jitter measurements in the time and frequency domain
When analyzing the robustness of data transmission systems, jitter is a key indicator. It is recommended to use jitter measurement instruments for both the time and frequency domain in order to differentiate between fast and slow moving artifacts.
---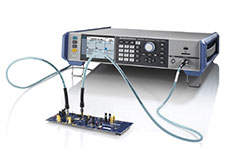 When you need an ideal clock source
Today's digital designs and data converters with high rates require clean clocks with minimal jitter. Modern digital designs and data converters can only work as well as the applied clock source allows. See how to get the best performance by using a state-of-the-art clock source.
Related Product Groups
Thank you.
Your request was successfully sent!
We will get in touch with you soon.
Your Rohde & Schwarz Team