Apr 19, 2023 | Press Release | Test & measurement
Rohde & Schwarz supplies Emitech's new vehicle test center in France with its EMC test system
Emitech, a company specializing in applied testing for product qualification in the automotive sector, has inaugurated its new vehicle test center in Montigny-le-Bretonneux, France. The EMC chamber is equipped with a complete EMC test system from Rohde & Schwarz including R&S BBA150, R&S BBA130 and R&S BBL200 broadband amplifiers, R&S ESW44 test receivers, R&S SMB100B RF signal generators and power meters. At the inauguration ceremony in March, Rohde & Schwarz also demonstrated its innovative solution for advanced driver assistance system (ADAS) testing.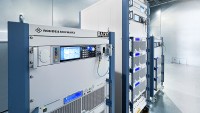 Jan 27, 2022 | Press Release | Test & measurement
Rohde & Schwarz furnishes EMC and radio labs of CSA Group′s new European headquarters with state-of-the-art T&M equipment
CSA Group, a global leader in testing, inspection and certification, has built a new European headquarters in Plattling in the State of Bavaria, Germany. As part of this project, CSA Group is considerably expanding its testing capabilities for German and European customers. For example, new test labs will enable a wide variety of product tests and certifications even of very large devices weighing up to 20 tonnes. The required test and measurement and amplifier equipment comes from EMC market leader Rohde & Schwarz.