News Search
Find newsworthy headlines from Rohde & Schwarz, including technical articles, press releases, NEWS magazine articles, and more.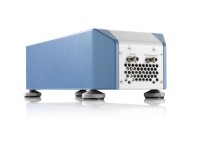 10-Aug-2020 | Press Release | Test & measurement
Rohde & Schwarz presents a new Q/V band RF upconverter for testing satellite payloads
To enable continually higher data rates for end users of satellite links, satellite operators are using higher frequencies, such as the Q/V band, where larger bandwidths are available. The new R&S SZV100A RF upconverter from Rohde & Schwarz now offers a solution for testing broadband transponders in the payloads of very high throughput satellites (VHTS). With its 2 GHz modulation bandwidth, the R&S SZV100A covers the entire frequency range from 36 GHz to 56 GHz.