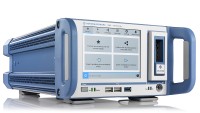 Mar 26, 2020 | Press Release | 電子計測器
R&S IQW100 wideband I/Q data recorder enables field-to-lab tests with midrange equipment
The R&S IQW100 brings signals from the real world into the laboratory to simulate real-world test environments, used in combination with selected midrange R&S signal analyzers and generators. It follows the successful launch in 2018 of the high-end R&S IQW wideband I/Q data recorder supporting top-of-the range R&S equipment. The R&S IQW100 supports recording and replaying signals with bandwidths up to 200 MHz and sampling rates up to 250 MS/s.
Mar 23, 2020 | Press Release | 無線通信
Rohde & Schwarz presents new test solutions for 5G base stations
Rohde & Schwarz is continuously extending its portfolio of test solutions for 5G base stations and the associated massive MIMO antenna arrays and amplifiers. Highlights include an OTA test solution with frontend modules specifically for the 5G FR2 range and a solution for speed-optimized tests of 5G base stations. Both are ideal for use in production. There is also a new, innovative test solution that allows developers to perform cross-channel measurements with up to 4x4 MIMO in the FR1 range.